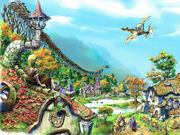 Anfog Village is a village that appears in Grandia III. It serves as the home place for the main protagonist, Yuki.
Story
[
]
Anfog Village was the home of Yuki, and the place where Yuki and his best friend Rotts built aircraft to fulfill their dreams of flying. Yuki was supposed to become a potter here as his mother, Miranda, wished for, but Yuki wouldn't give up his dream and continued to build aircraft with Rotts here, until he finally created a (somewhat) successful plane and went away on his own adventure.
Places in the Village
[
]
Garage - the shed where Yuki and Rotts built their aircraft. It's located at the top of the north-western hill.
Rotts's house - as the name suggests, it's the place where Rotts lives. It's located next to the garage.
Miranda's house - the house where Yuki and his mother lived. A small interior garden grows inside. Yuki's room is upstairs, connected to the kitchen by a ladder, while Miranda's room is on the first floor.
Anfog Stores
[
]
General Store - Equipment
[
]
| | | | |
| --- | --- | --- | --- |
| Item | Stats | Description | Buy |
| Small Sword | +7 ATK | As the name suggests, a very small sword. | 160 G |
| Leather Armor | +7 DEF | A lightweight suit of armor made from oiled leather. | 120 G |
General Store - Consumables
[
]
| | | | |
| --- | --- | --- | --- |
| Item | Range | Description | Buy |
| Healing Herb | One Ally | A plant with mild healing properties. Restores 300 HP. | 4 G |
| Wound Salve | One Ally | Apply to wounds to promote healing. Restores 600 HP. | 12 G |
| Revival Potion | One Ally | Brings an ally back from death's door. Revives one ally with 50% HP. | 40 G |
| Cherry Bomb | One Ally | Explodes when thrown. Non-elemental damage. Power: 160. | 6 G |
Magic Shop - Spells
[
]
| | | | | |
| --- | --- | --- | --- | --- |
| Spell | Power | Range | Description | Buy |
| Burn! | ☆☆ | One Enemy | Send a fireball at the enemy. Fire damage. | 60 G |
| Diggin' | - | All Allies | Call on the power of the earth for protection. +DEF and +RES (temporary). | 100 G |
| Crackle | ☆☆☆ | One Enemy | Impale the enemy on spears of ice. Water damage. | 400 G |
| Heal | ☆ | One Ally | Summon the mist of life to slightly heal an ally. Restores HP. | 60 G |
| Howl | ☆ | Circle around Enemy | Summon a strong wind. Wind damage. | 80 G |