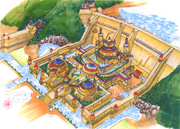 Cyrum is a large, cheerful, colourful kingdom built on the coast. There are many channels of water running throughout the city and there is also a large dock. The kingdom in centred around Cyrum Castle which holds dark secrets from the past of the people of Cyrum.
The residents of the kingdom of Cyrum once called themselves the People of Darkness - they served Valmar in his fight against Lord Granas. However, the people renounced their commitment to darkness after Valmar was sealed away in parts. They have lived in shame of their past ever since.
Story
[
]
Roan is the prince of Cyrum and when he returns and defeats the Claw of Valmar he takes his father's place as king of Cyrum. Roan remains in Cyrum afterwards to care for his people while the rest of the party sets off for Garlan with the new party member: Tio.
Locations
[
]
General Store - a place to buy items.
Inn - a place to stay the night.
Port - a place to dock the ships that are coming in to Cyrum.
Cyrum General Store
[
]
Weapons
[
]
| | | | |
| --- | --- | --- | --- |
| Weapon | Stats | Description | Buy |
| Shadowblade | +44 ATK -4 MOV | Sudden death power | 4000 G |
| Blazing Staff | +60 ATK | Fire-based [Burnflame] | 4200 G |
| Whirlwind Staff | +60 ATK | Wind-based [Howlslash] | 4200 G |
| Quarry Staff | +60 ATK | Earth-based [Tremor] | 4200 G |
| Arbalest | +70 ATK | A huge crossbow | 4500 G |
| Main Gauche | +62 ATK +10 DEF | | 4600 G |
| Halberd | +68 ATK | Large long-shafted axe | 4400 G |
Armor
[
]
| | | | |
| --- | --- | --- | --- |
| Weapon | Stats | Description | Buy |
| Purple Robe | +35 DEF | Gives paralysis resistance | 4500 G |
| Black Quartz Mail | +38 DEF | Black magical armor | 5500 G |
| Wizard's Hat | +22 DEF | Magical block resistance | 2000 G |
| Black Quartz Helm | +25 DEF | Black magical helmet | 2200 G |
| Magic Hi-Heels | +12 MOV +8 DEF | Magical shoes | 1100 G |
Jewelry
[
]
| | | | |
| --- | --- | --- | --- |
| Weapon | Stats | Description | Buy |
| Magical Brace | +20 DEF | | 1500 G |
| Anklet | +40 MOV | | 1000 G |
| Fire Charm | - | Level 5 fire resistance | 400 G |
| Wind Charm | - | Level 5 wind resistance | 400 G |
| Earth Charm | - | Level 5 earth resistance | 400 G |
| Lightning Charm | - | Level 5 lightning resistance | 400 G |
| Blizzard Charm | - | Level 5 blizzard resistance | 400 G |
Items
[
]
| | | | |
| --- | --- | --- | --- |
| Item | Range | Description | Buy |
| Wound Salve | One Ally | Restores 400 HP | 24 G |
| Holy Wound Salve | One Ally | Restores 800 HP | 60 G |
| Healing Herb | All Allies | Restores 250 HP | 50 G |
| Scroll of Alheal | All Allies | Restores 500 HP | 120 G |
| Poison Antidote | One Ally | Cures poison | 14 G |
| Paralysis Salve | One Ally | Cures paralysis | 14 G |
| Purifying Herb | One Ally | Cures poison and paralysis | 40 G |
| Torte's Reedpipe | Some Allies | Awakens sleeping characters | 30 G |
| Smelling Salts | One Ally | Cures confusion | 20 G |
| Move Blessing | One Ally | Release move blocks | 50 G |
| Magic Blessing | One Ally | Release magic blocks | 50 G |
| Yomi's Elixir | One Ally | Revives a fallen character | 500 G |
Regional
[
]
| | | | |
| --- | --- | --- | --- |
| Item | Range | Description | Buy |
| Flame Stone | Some Foes | Power: 650 Fire-based attack | 200 G |
| Gale Stone | Enemy Line | Power: 700 Wind-based attack | 200 G |
| Quake Stone | Some Foes | Power: 650 Earth-based attack | 200 G |
| Electrum Stone | Some Foes | Power: 700 Lightning-based + Paralysis | 250 G |
| Icefang Stone | One Foe | Power: 1200 Blizzard-based attack | 150 G |
| Powerless Nut | Some Foes | -1 ATK level | 50 G |
| Weakness Nut | Some Foes | -1 DEF level | 50 G |
| Exhaustion Nut | Some Foes | -1 ACT level | 50 G |
| Slowpoke Nut | Some Foes | -1 MOV level | 50 G |
Cyrum General Store (Revisit)
[
]
Weapons
[
]
| | | | |
| --- | --- | --- | --- |
| Weapon | Stats | Description | Buy |
| Blazing Sword | +120 ATK | Fire-based | 17000 G |
| Icefang Sword | +122 ATK | Blizzard-based | 18000 G |
| Thor Sword | +125 ATK | Lightning-based | 19000 G |
| Decalogue Staff | +108 ATK | Magic/move block effect | 11800 G |
| Guardian Staff | +118 ATK | Earth-based [Diggin'] | 15500 G |
| Huge Flail | +128 ATK -5 MOV | An enormous flail | 17000 G |
| Sword Breaker | +110 ATK | Attack drops enemy's ATK lvl. | 14500 G |
| Wind Cutter | +122 ATK | Wind-based | 18000 G |
| Demon Shuriken | +128 ATK +5 ACT | | 19800 G |
Armor
[
]
| | | | |
| --- | --- | --- | --- |
| Weapon | Stats | Description | Buy |
| Aura Armor | +64 DEF | Ups power of moves | 19800 G |
| Charisma Helm | +38 DEF +5 ACT | Cyrum's finest | 8000 G |
| Magic Hi-Heels | +12 MOV +8 DEF | Magical shoes | 1100 G |
| Battle Boots | +12 MOV +12 DEF | Warrior's boots | 1800 G |
Jewelry
[
]
| | | | |
| --- | --- | --- | --- |
| Weapon | Stats | Description | Buy |
| Heracles' Belt | +40 ATK | | 6200 G |
| Shogun's Brace | +40 DEF | | 5000 G |
| Godspeed Ring | +15 ACT | | 2500 G |
| Anklet | +40 MOV | | 1000 G |
| Fire Charm | - | Level 5 fire resistance | 400 G |
| Wind Charm | - | Level 5 wind resistance | 400 G |
| Earth Charm | - | Level 5 earth resistance | 400 G |
| Lightning Charm | - | Level 5 lightning resistance | 400 G |
| Blizzard Charm | - | Level 5 blizzard resistance | 400 G |
Items
[
]
| | | | |
| --- | --- | --- | --- |
| Item | Range | Description | Buy |
| Holy Wound Salve | One Ally | Restores 800 HP | 60 G |
| Healing Fruit | One Ally | Restores 1200 HP | 100 G |
| Scarlet Potion | One Ally | Restores 1600 HP | 250 G |
| Healing Incense | All Allies | Restores 1000 HP | 400 G |
| Potion of Azure | All Allies | Restores 1500 HP | 750 G |
| Purifying Herb | One Ally | Cures poison and paralysis | 40 G |
| Torte's Reedpipe | Some Allies | Awakens sleeping characters | 30 G |
| Smelling Salts | One Ally | Cures confusion | 20 G |
| Blessing Scroll | One Ally | Release move/magic blocks | 150 G |
| Vaccine | One Ally | Cures plague | 100 G |
| Panacea | One Ally | Cures all status disorders | 500 G |
| Yomi's Elixir | One Ally | Revives a fallen character | 500 G |
Regional
[
]
| | | | |
| --- | --- | --- | --- |
| Item | Range | Description | Buy |
| Baobab Fruit | One Ally | Restores 100 SP | 360 G |
| Magical Medicine | One Ally | Restores 100 MP | 360 G |
| Silver Feather | One Ally | Greatly increases IP | 500 G |
| Super Mogay Bomb | Some Foes | Power: 1000 Powerful IP damage effect | 1000 G |
| Flame Stone | Some Foes | Power: 650 Fire-based attack | 200 G |
| Gale Stone | Enemy Line | Power: 700 Wind-based attack | 200 G |
| Quake Stone | Some Foes | Power: 650 Earth-based attack | 200 G |
| Electrum Stone | Some Foes | Power: 700 Lightning-based + Paralysis | 250 G |
| Icefang Stone | One Foe | Power: 1200 Blizzard-based attack | 150 G |
| Thor Stone | All Foes | Power: 1500 Lightning-based | 750 G |
| Red Bird Stone | One Foe | Power: 1200 Fire-based attack | 250 G |
| Serpentine | All Foes | Power: 1500 Bombs launched on arrows | 500 G |
Images
[
]