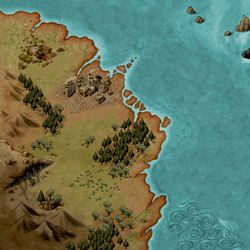 Messina is the smallest of the three main continents in the world in Grandia. It is the first continent players encounter, and is home to several locations important early the game. Messina is also the least developed continent in the world.
The economic condition in the continent, although prosperous and thriving, is defined with rigidity and industrial complexity. Many richer families have migrated to New Parm in the New World.
Demographics
Edit
Messina is home to one known settlement, a small port town, Parm. The Parmians are a part of the human race which dominate the western half of the world. The population of Messina has slowly decreased in the years leading to the game as many of the richest residents of Messina have relocated across the ocean and now live in New Parm.
Messina Locations
Edit
Community content is available under
CC-BY-SA
unless otherwise noted.