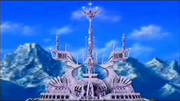 St. Heim Papal State is a large town centred around the large
Granas
Cathedral
at it's heart. It is home to Pope
Zera
and
Selene
. The people of the town look to the Pope for guidance about their lives and how to deal with the threat of
Valmar
's darkness.
Locations
Edit
Granas Cathedral - The religious centre for followers of Granas. It is built atop a grand mountain as if reaching into the heavens.
Bakery - A local bakery full of cheerful workers.
Library - Full of books, many of which tell ancient legends of the past - the Battle of Good & Evil, the Granasaber, etc.
Inn - An inn next to the town entrance of town. The first stop for tired travellers.
General Store - The local shop for buying battle goods and potions.
Sheep-baa Pasture - A pasture for Sheep-baas to live and play, located behind the inn.
St. Heim General Store
Edit
| | | | |
| --- | --- | --- | --- |
| Weapon | Stats | Description | Buy |
| Claymore | +60 ATK | Huge two-handed sword | 3600 G |
| Sister's Staff | +55 ATK | [Cure] | 3500 G |
| Halberd | +68 ATK | Large long-shafted axe | 4400 G |
| | | | |
| --- | --- | --- | --- |
| Weapon | Stats | Description | Buy |
| Sister's Robe | +35 DEF | Poison resistance | 4500 G |
| Sister's Hat | +20 DEF | Plague resistance | 1750 G |
| Heavy Boots | +10 MOV +6 DEF | Negates knock-back | 800 G |
| | | | |
| --- | --- | --- | --- |
| Weapon | Stats | Description | Buy |
| Healing Ring | +5 DEF | [Heal] | 500 G |
| Poison Charm | - | Poison resistance | 250 G |
| Sleep Charm | - | Sleep resistance | 250 G |
| Confusion Charm | - | Confusion resistance | 250 G |
| Paralysis Charm | - | Paralysis resistance | 250 G |
| Move Block Charm | - | Move block resistance | 400 G |
| Magic Block Charm | - | Magic block resistance | 400 G |
| | | | |
| --- | --- | --- | --- |
| Item | Range | Description | Buy |
| Wound Salve | One Ally | Restores 400 HP | 24 G |
| Holy Wound Salve | One Ally | Restores 800 HP | 60 G |
| Healing Herb | All Allies | Restores 250 HP | 50 G |
| Scroll of Alheal | All Allies | Restores 500 HP | 120 G |
| Poison Antidote | One Ally | Cures poison | 14 G |
| Paralysis Salve | One Ally | Cures paralysis | 14 G |
| Purifying Herb | One Ally | Cures poison and paralysis | 40 G |
| Torte's Reedpipe | Some Allies | Awakens sleeping characters | 30 G |
| Smelling Salts | One Ally | Cures confusion | 20 G |
| Move Blessing | One Ally | Release move blocks | 50 G |
| Magic Blessing | One Ally | Release magic blocks | 50 G |
| Yomi's Elixir | One Ally | Revives a fallen character | 500 G |
| | | | |
| --- | --- | --- | --- |
| Item | Range | Description | Buy |
| Butter Roll | One Ally | Restores 50 SP | 120 G |
| Fresh Sandwich | One Ally | Restores 600 HP Cures poison/para. | 100 G |
| Mogay Bomb | Some Foes | Power: 500 IP damage effect | 250 G |
| Holy Ashes | Some Foes | Power: 700 Good vs. undead | 200 G |
| Myriad Power Nut | Some Allies | +1 ATK level | 20 G |
| Patience Nut | Some Allies | +1 DEF level | 20 G |
| Sympathy Nut | Some Allies | +1 ACT level | 20 G |
| Swiftness Nut | Some Allies | +1 MOV level | 20 G |
St. Heim General Store (Revisit)
Edit
| | | | |
| --- | --- | --- | --- |
| Weapon | Stats | Description | Buy |
| Holy Soul Blade | +112 ATK | Attack drops enemy's defense lv | 14000 G |
| Priest's Staff | +99 ATK | [Halvah] | 12000 G |
| Rune Axe | +107 ATK | Reduces IP slowing | 13500 G |
| | | | |
| --- | --- | --- | --- |
| Weapon | Stats | Description | Buy |
| Priest's Robe | +54 DEF | Pois./para./plag. resis. | 16000 G |
| Priest's Hat | +36 DEF | Magic/move block resis. | 5800 G |
| | | | |
| --- | --- | --- | --- |
| Weapon | Stats | Description | Buy |
| Heracles' Belt | +40 ATK | | 6200 G |
| Shogun's Brace | +40 DEF | | 5000 G |
| Relief Tag | - | Restores some HP in combat | 4000 G |
| Healing Ring | +5 DEF | [Heal] | 500 G |
| Poison Charm | - | Poison resistance | 250 G |
| Sleep Charm | - | Sleep resistance | 250 G |
| Confusion Charm | - | Confusion resistance | 250 G |
| Paralysis Charm | - | Paralysis resistance | 250 G |
| Move Block Charm | - | Move block resistance | 400 G |
| Magic Block Charm | - | Magic block resistance | 400 G |
| | | | |
| --- | --- | --- | --- |
| Item | Range | Description | Buy |
| Holy Wound Salve | One Ally | Restores 800 HP | 60 G |
| Healing Fruit | One Ally | Restores 1200 HP | 100 G |
| Scarlet Potion | One Ally | Restores 1600 HP | 250 G |
| Healing Incense | All Allies | Restores 1000 HP | 400 G |
| Potion of Azure | All Allies | Restores 1500 HP | 750 G |
| Purifying Herb | One Ally | Cures poison and paralysis | 40 G |
| Torte's Reedpipe | Some Allies | Awakens sleeping characters | 30 G |
| Smelling Salts | One Ally | Cures confusion | 20 G |
| Blessing Scroll | One Ally | Release move/magic blocks | 150 G |
| Vaccine | One Ally | Cures plague | 100 G |
| Panacea | One Ally | Cures all status disorders | 500 G |
| Yomi's Elixir | One Ally | Revives a fallen character | 500 G |
| | | | |
| --- | --- | --- | --- |
| Item | Range | Description | Buy |
| Butter Roll | One Ally | Restores 50 SP | 120 G |
| Fresh Sandwich | One Ally | Restores 600 HP Cures poison/para. | 100 G |
| Super Mogay Bomb | Some Foes | Power: 1000 Powerful IP damage effect | 1000 G |
| Holy Ashes | Some Foes | Power: 700 Good vs. undead | 200 G |
| Thor Stone | All Foes | Power: 1500 Lightning-based | 750 G |
| Myriad Power Nut | Some Allies | +1 ATK level | 20 G |
| Patience Nut | Some Allies | +1 DEF level | 20 G |
| Sympathy Nut | Some Allies | +1 ACT level | 20 G |
| Swiftness Nut | Some Allies | +1 MOV level | 20 G |