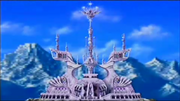 St. Heim Papal State is a large town centred around the large Granas Cathedral at it's heart. It is home to Pope Zera and Selene. The people of the town look to the Pope for guidance about their lives and how to deal with the threat of Valmar's darkness.
Locations
[
]
Granas Cathedral - The religious centre for followers of Granas. It is built atop a grand mountain as if reaching into the heavens.
Bakery - A local bakery full of cheerful workers.
Library - Full of books, many of which tell ancient legends of the past - the Battle of Good & Evil, the Granasaber, etc.
Inn - An inn next to the town entrance of town. The first stop for tired travellers.
General Store - The local shop for buying battle goods and potions.
Sheep-baa Pasture - A pasture for Sheep-baas to live and play, located behind the inn.
St. Heim General Store
[
]
Weapons
[
]
| | | | |
| --- | --- | --- | --- |
| Weapon | Stats | Description | Buy |
| Claymore | +60 ATK | Huge two-handed sword | 3600 G |
| Sister's Staff | +55 ATK | [Cure] | 3500 G |
| Halberd | +68 ATK | Large long-shafted axe | 4400 G |
Armor
[
]
| | | | |
| --- | --- | --- | --- |
| Weapon | Stats | Description | Buy |
| Sister's Robe | +35 DEF | Poison resistance | 4500 G |
| Sister's Hat | +20 DEF | Plague resistance | 1750 G |
| Heavy Boots | +10 MOV +6 DEF | Negates knock-back | 800 G |
Jewelry
[
]
| | | | |
| --- | --- | --- | --- |
| Weapon | Stats | Description | Buy |
| Healing Ring | +5 DEF | [Heal] | 500 G |
| Poison Charm | - | Poison resistance | 250 G |
| Sleep Charm | - | Sleep resistance | 250 G |
| Confusion Charm | - | Confusion resistance | 250 G |
| Paralysis Charm | - | Paralysis resistance | 250 G |
| Move Block Charm | - | Move block resistance | 400 G |
| Magic Block Charm | - | Magic block resistance | 400 G |
Items
[
]
| | | | |
| --- | --- | --- | --- |
| Item | Range | Description | Buy |
| Wound Salve | One Ally | Restores 400 HP | 24 G |
| Holy Wound Salve | One Ally | Restores 800 HP | 60 G |
| Healing Herb | All Allies | Restores 250 HP | 50 G |
| Scroll of Alheal | All Allies | Restores 500 HP | 120 G |
| Poison Antidote | One Ally | Cures poison | 14 G |
| Paralysis Salve | One Ally | Cures paralysis | 14 G |
| Purifying Herb | One Ally | Cures poison and paralysis | 40 G |
| Torte's Reedpipe | Some Allies | Awakens sleeping characters | 30 G |
| Smelling Salts | One Ally | Cures confusion | 20 G |
| Move Blessing | One Ally | Release move blocks | 50 G |
| Magic Blessing | One Ally | Release magic blocks | 50 G |
| Yomi's Elixir | One Ally | Revives a fallen character | 500 G |
Regional
[
]
| | | | |
| --- | --- | --- | --- |
| Item | Range | Description | Buy |
| Butter Roll | One Ally | Restores 50 SP | 120 G |
| Fresh Sandwich | One Ally | Restores 600 HP Cures poison/para. | 100 G |
| Mogay Bomb | Some Foes | Power: 500 IP damage effect | 250 G |
| Holy Ashes | Some Foes | Power: 700 Good vs. undead | 200 G |
| Myriad Power Nut | Some Allies | +1 ATK level | 20 G |
| Patience Nut | Some Allies | +1 DEF level | 20 G |
| Sympathy Nut | Some Allies | +1 ACT level | 20 G |
| Swiftness Nut | Some Allies | +1 MOV level | 20 G |
St. Heim General Store (Revisit)
[
]
Weapons
[
]
| | | | |
| --- | --- | --- | --- |
| Weapon | Stats | Description | Buy |
| Holy Soul Blade | +112 ATK | Attack drops enemy's defense lv | 14000 G |
| Priest's Staff | +99 ATK | [Halvah] | 12000 G |
| Rune Axe | +107 ATK | Reduces IP slowing | 13500 G |
Armor
[
]
| | | | |
| --- | --- | --- | --- |
| Weapon | Stats | Description | Buy |
| Priest's Robe | +54 DEF | Pois./para./plag. resis. | 16000 G |
| Priest's Hat | +36 DEF | Magic/move block resis. | 5800 G |
Jewelry
[
]
| | | | |
| --- | --- | --- | --- |
| Weapon | Stats | Description | Buy |
| Heracles' Belt | +40 ATK | | 6200 G |
| Shogun's Brace | +40 DEF | | 5000 G |
| Relief Tag | - | Restores some HP in combat | 4000 G |
| Healing Ring | +5 DEF | [Heal] | 500 G |
| Poison Charm | - | Poison resistance | 250 G |
| Sleep Charm | - | Sleep resistance | 250 G |
| Confusion Charm | - | Confusion resistance | 250 G |
| Paralysis Charm | - | Paralysis resistance | 250 G |
| Move Block Charm | - | Move block resistance | 400 G |
| Magic Block Charm | - | Magic block resistance | 400 G |
Items
[
]
| | | | |
| --- | --- | --- | --- |
| Item | Range | Description | Buy |
| Holy Wound Salve | One Ally | Restores 800 HP | 60 G |
| Healing Fruit | One Ally | Restores 1200 HP | 100 G |
| Scarlet Potion | One Ally | Restores 1600 HP | 250 G |
| Healing Incense | All Allies | Restores 1000 HP | 400 G |
| Potion of Azure | All Allies | Restores 1500 HP | 750 G |
| Purifying Herb | One Ally | Cures poison and paralysis | 40 G |
| Torte's Reedpipe | Some Allies | Awakens sleeping characters | 30 G |
| Smelling Salts | One Ally | Cures confusion | 20 G |
| Blessing Scroll | One Ally | Release move/magic blocks | 150 G |
| Vaccine | One Ally | Cures plague | 100 G |
| Panacea | One Ally | Cures all status disorders | 500 G |
| Yomi's Elixir | One Ally | Revives a fallen character | 500 G |
Regional
[
]
| | | | |
| --- | --- | --- | --- |
| Item | Range | Description | Buy |
| Butter Roll | One Ally | Restores 50 SP | 120 G |
| Fresh Sandwich | One Ally | Restores 600 HP Cures poison/para. | 100 G |
| Super Mogay Bomb | Some Foes | Power: 1000 Powerful IP damage effect | 1000 G |
| Holy Ashes | Some Foes | Power: 700 Good vs. undead | 200 G |
| Thor Stone | All Foes | Power: 1500 Lightning-based | 750 G |
| Myriad Power Nut | Some Allies | +1 ATK level | 20 G |
| Patience Nut | Some Allies | +1 DEF level | 20 G |
| Sympathy Nut | Some Allies | +1 ACT level | 20 G |
| Swiftness Nut | Some Allies | +1 MOV level | 20 G |