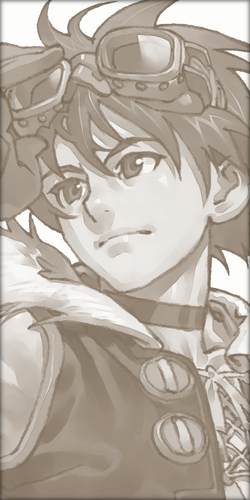 Look at my personal user page!
I like Grandia III.
Everything you see following this paragraph is just work in progress content - Wikia doesn't have a "save draft" tool so I'm saving WIP things here.
WIP draft
La-Ilim

Statistics
HP
EXP
Gold
12000
10000
1600
ATK
DEF
INI
MOV
86
96
88
48
Elemental Effectiveness

None
-
9.9x
-
-
0.1x
Elemental Effectiveness (Alt.)

None
-
Very Weak
-
-
Resistant
Information
Location
Nautica Plains (Ruined Courtyard)
Race
Evil spooky bad guy
Items Dropped
N/A
Grandia III Enemy
La-Ilim is very spooky. Very, very spooky. He fights alongside Undead Dragon and does not like you.
This is an infobox draft for Grandia III enemies. So lilac! The elemental stats are temporary; I haven't actually bothered figuring out what they are. Although you should note that they're written with number multipliers (1.5x, etc), because I think that's clearer than "weak". I'm opinionated towards knowing exactly what numbers I'm dealing with :)
On the other hand, I intend to release an actual bestiary guide (GameFAQ-style) at some point or another, which will contain these numbers too. So maybe it'll be smarter to use "Very Weak"/etc on the wiki, for consistency with Grandia enemy infoboxes?
Another thing: Some enemies are fought multiple times throughout the course of the story (e.g. La-Ilim). I wonder how to make that fit into infoboxes? The Grandia-side of the wiki handles this by splitting off into multiple pages (e.g. Baal (Boss - Second Encounter)), and I think that makes sense to do with Grandia III too, since usually boss strategies and what-not change per the encounter.
Community content is available under
CC-BY-SA
unless otherwise noted.